5 Stores Serving Greater Edmonton
H&W Produce is Edmonton's locally owned and operated source for fresh quality fruits and vegetables. Our produce is carefully selected and sourced from local, regional and worldwide locations to provide your family with the best value. Our stores are conveniently located in the greater Edmonton area, locally owned and community driven.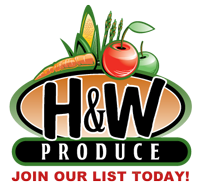 Get Weekly Specials & Coupons!
Join our list today and get weekly specials email, coupons and updates.